Chris asked me to make a few comments about hunting with HP's.
I'll start this with hopes that others will join in with their experiences.
25 years ago, I took a big interest in HP cast rifle hunting bullets.
At that time, I thought that it
" was the only way to go "
.
Since that time and seeing a lot of HP failures in the game field , I've mellowed my " heat " for HP's "
25 years ago, I knew very little about HP pin depth and diameter, along with alloys, as to their contributions to performance and performance failures.
That lack of knowledge led me down the road of what I call stinking thinking........." The deeper the HP Pin , and the larger the HP pin diameter, and the faster the velocity ", the better things were going to be.
In my experience that is flawed thinking ! ! !
I have experienced many " Blow Ups ". See the photo below of the performance of the 31141 HP shot from a 308 Win. on a deer that weighed about 120 lbs :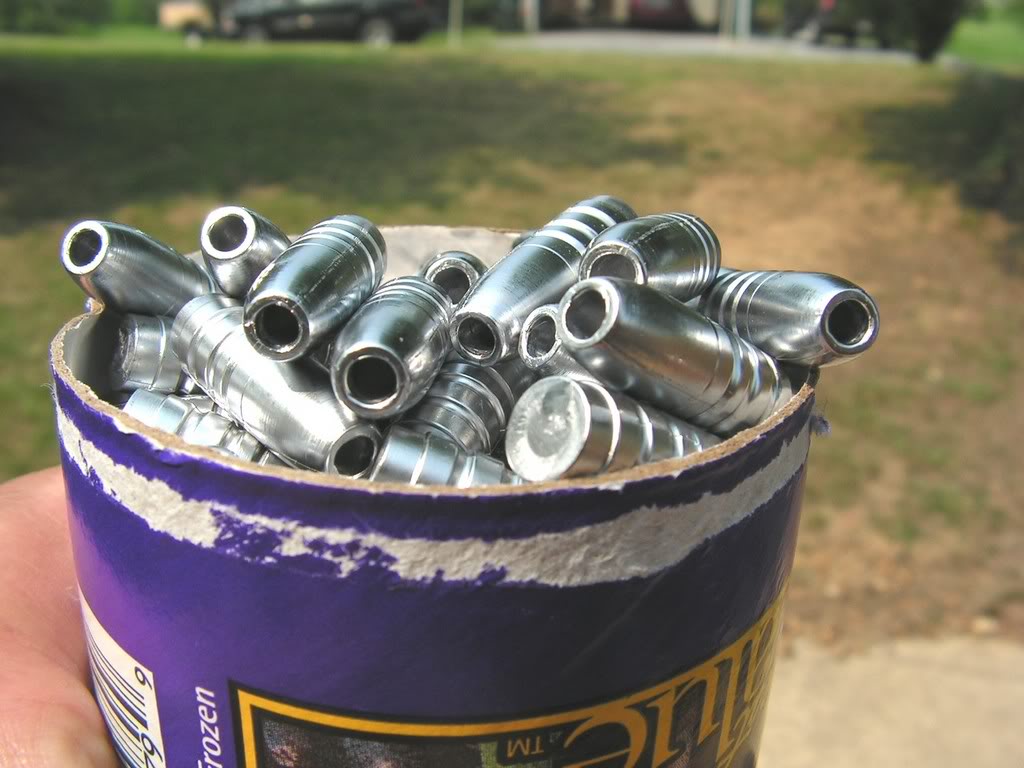 Notice the size of the entrance hole, the bullet is beginning to explode from contact with a rib, it has not even come close to getting to vital organs yet.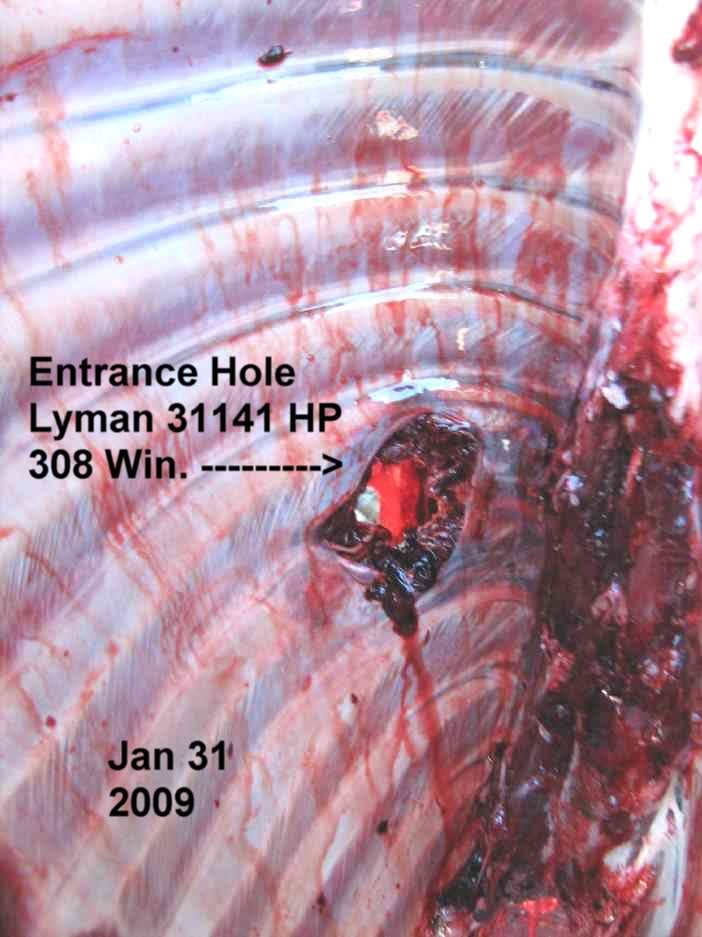 Here is the exit.............basically shrapnel from my " flying bomb ".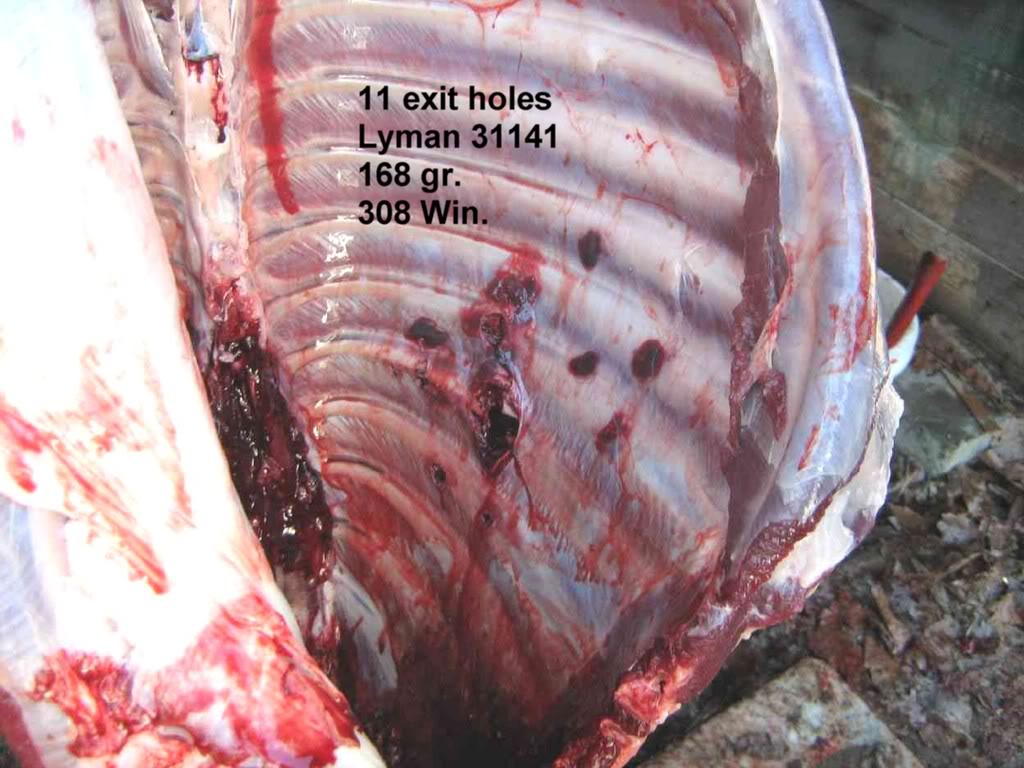 By the way, the deer was dead. However, I did not get the exit hole that I was looking for. At a later date, one of my friends ( who is an expert shot ) used the same bullet at about the same velocity on an 8 pt. buck. The deer had an entrance wound but no exit hole, went almost 1/2 a mile and was found dead. The bullet placement was perfect, the pullet performance was terrrible. When that deer was skined , there were 50 or more tiny bullet fragments inside the body cavity, but no exit hole.
This kind of performance is not a one time occurrence for me. When the HP pin is too large and too deep, exasperated by brittle alloy and high velocity, bullet failure is real and probable.
What is the answer ? ?
I've tried shortening the HP pin, using smaller dia. HP pins, changing alloys to make them more malleable and less brittle. I've not given up on HPs just yet. However, I'm making a turn towards larger dia. cast bullets like the 35 cal. and the 45 cal in my 45-70, possibly being used as solids without any HPing. These calibers with large meplat bullets designs like the one you see below are great killers
WITHOUT
the need for HPing.
Here is my 405 gr. Accurate 460405 V that I'll be shooting from my 45/70 , obviously it will carry a big " smack factor " with a sizeable entrance and exit hole on deer :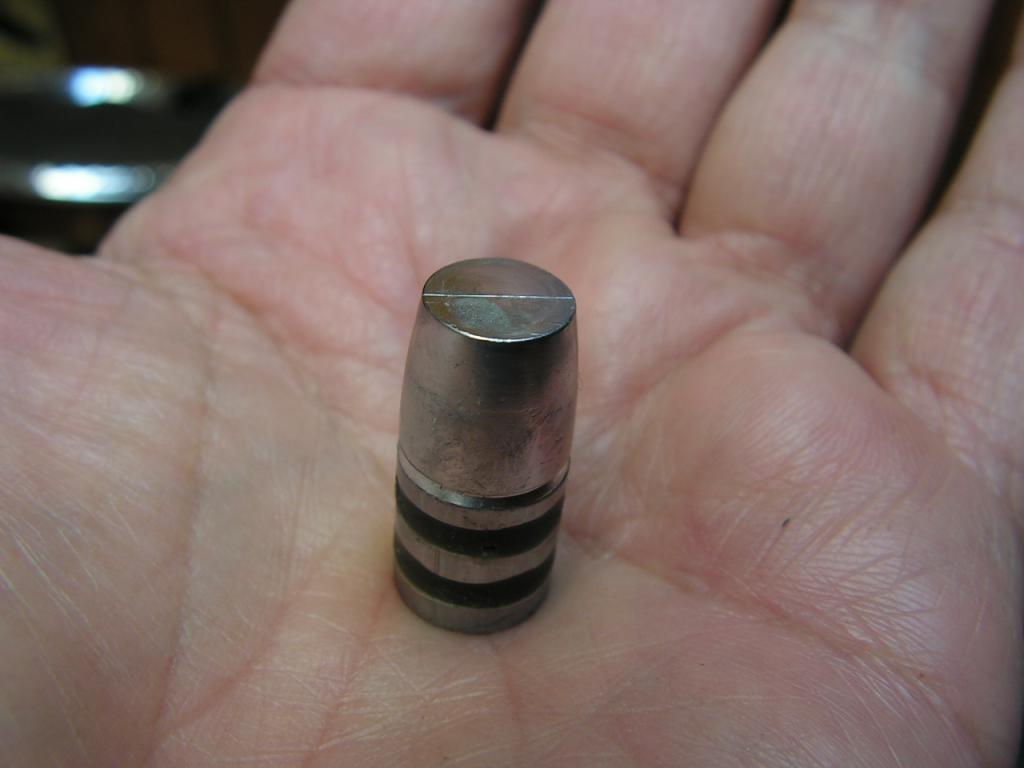 What are your experiences ? ?
Ben
Last edited: