I`ve recently recieved a rebuilt stainless Howa 1500, that started life as a 30-06. And as you all know, there is nothing wrong with the 30- 06. But for large game (moose, wild boar) cast bullet hunting, I`d like a bit «more bullet».
I`ve previously written about my first .35 Whelen, which is part of a customized Rem 700 switch- barrel. This turned out very accurate with cast bullets, but it is a bit too long and heavy to be a practical hunting tool in the forest. Thus, I built a more hunting- oriented rifle.
It has a Boyds laminate stock, that was a bit short for me; elongated with a thick (and lovely) recoil pad, and spacer plates. The screw holes were a bit cheezy, installed pillars and full- action glass bedding. The original sling studs were extremely annoying, as these things tend to be; the front stud was in the way of my left hand while shooting off- hand, and the rear bothered me while shooting of the bench with a rearbag. They were removed, and replaced with Recknagel flush- cups on the left side of the rifle. Removing the sling is super- quick. And when I carry the rifle in the sling, the flattest part of the rifle face my back, a very stable position.
The reciever threads and bolt face was squared, the locking lugs lapped and a Lothar Walter 1-14 ROT stainless blank chambered and turned to 1,8mm thicker profile than the original Howa sporter profile (to retain stiffness despite the bigger hole in the barrel). Barrel length 20 2/3 in, threaded for suppressor.
Standard Leupold bases and rings, and a Leupold European 3-9x40 scope, with German No 4 reticle in the first focal plane (meaning that the girth of the posts increase when you increase magnification).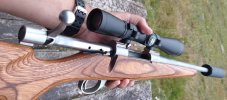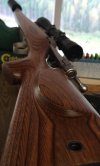 I tried a variety of loads today, for the first time with this rifle! Bulltes ranged from 155grs PB handgun bullets, rto 310grs GC bullets.
I tried some loads that have worked well in my other rifle. I`m hoping to get it ready for the moose hunt, which starts in 2 weeks.

The MP 360-155 shot pretty well with 13grs Vectan A0. THis was about 1,5MOA at 100m, the first group ever shot with this rifle.
The MP 360- 165 Shot a similar group with 10,5 grs A0.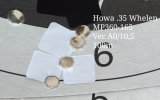 The CBE 358- 250 (260grs in my alloy) shot quite well with 45grs Vihta N140. This bullet has agood meplat, and should be excellent for hunting. At 2100fps, it packs a punch

The CBE 360-300 (310 grs in my alloy) is the most accurate bullet in my other Whelen. The preparation is rather elaborate, and involves nose- sizing. 47 grs Vihta N150 is the best load in my other Whelen, I tried 46 (2000 fps) and 47 grs (2034 fps)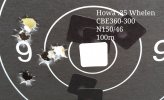 The 47grs load seems to work very well in this rifle as well, 29mm c-c at 100m is 1,0 MOA.
This rifle is not a feather- weight rifle. Is has a straight, well- designed stock with a good recoil pad. The scope has ample eye- relief. And the suppressor works wonders in reduction of felt recoil. These things make the powerful 310grs load quite shootable, I guesss most adults with good health would tolerate the recoil.
All cartridges, even with the short handgun bullets, fed nicely from the 5- shot magazine. Function was flawless! No work has been done on the feed ramp or magazine. The Howa 1500 30-06 is clearly very suitable for .35 Whelen conversion.
All groups were shot with PPU 30-06 range pick- ups, formed in a Lee .35 Whelen die. I now have properly fire- formed brass for the rifle. With a few more shots through the barrel, I wouldn`t be surprised if accuracy would improve a bit more. But I`m very happy with these results, from the first shooting with a newly built rifle.
Moose, beware!