Resident Half Fast Machinist
Most of last week's production was shooting and reloading related work. The first photo is our finished work shelf. The three boxes on the left contain the parts for 15 barrel rests and 15 butt rests for shotguns that are used in spot/beef/money shoots. A mutual friend got us together. I am not selling his product, just showing this stuff as an example of our machine work. I will post pictures of the assembled products if he sends me some.
Finished products shelf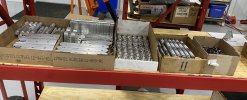 Barrel rest and butt rest parts

The right hand box is knobs and jam nuts. The CNC lathe was tied up so I did all the turning and knurling on a manual lathe and the drilling and tapping on a CNC mill. The knobs in front have a flat top, the ones in back have a domed top and were cut with a hand ground form tool. All are made from 1-1/4" 6061 Al round stock.
Knobs and jam nuts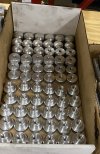 The last two photos are our own products, one is Lee type dies (we ran 100) and other is Lyman/RCBS type top punches. We didn't count how many we got, we just made forty feet of them.
Lee type dies

Forty feet of top punch blanks

Next week we plan to run some Saeco type dies as well as some Star/Magma type dies.